(BPT) - During a time of national crisis, it can be harder than ever for vital messages to cut through the noise of constant news alerts and social media clutter. But powerful images have a way of communicating emotions and ideas in a way that words cannot, helping to break through the noise and deliver important messages.
With this idea in mind, three artists specializing in public murals from across the country took up the challenge of conveying an important moment — and message — during the COVID-19 pandemic. Earlier this summer, the artists were tasked with depicting the long-awaited and joyful moment of finally being able to safely welcome friends and family back into the home after months of separation, thanks to the COVID-19 vaccine. All three resulting murals encapsulate the meaning of the "It's Up To You" COVID-19 vaccine awareness effort, born out of a partnership between the COVID Collaborative, the Ad Council and Lysol.
"With the COVID vaccines widely available, it's critical that Americans with questions know where to turn for reliable answers," said Lisa Sherman, president and CEO of the Ad Council. "We are thrilled that Lysol, a brand deeply trusted by consumers, is joining our initiative. Together, we can inspire individuals who are still hesitant to get the facts about the safety and efficacy of these vaccines."
To that end, each mural does more than just convey the emotions and excitement of these happy reunions after more than a year of isolation. They also provide a public service by featuring a QR code that people can scan, taking them to GetVaccineAnswers.org to learn more information about COVID-19 vaccines.
The murals were painted on walls in three different U.S. cities:
Washington, D.C.
Still on display at 3925 Minnesota Ave. N.E. in Washington, D.C., the D.C. mural was created by local artist Aniekan Udofia. Udofia chose to paint several vivid, colorful and stylized portraits of people celebrating being together once again. His mural captures the feelings that so many have experienced when reuniting with friends and family after a long separation.
"It's one of my best pieces that I've done in a long time because of the storytelling in it, the vibrancy of it," said Udofia. "You can see all the activity going on — when someone is walking into the room, the gift-giving, the hugging."
Detroit, Michigan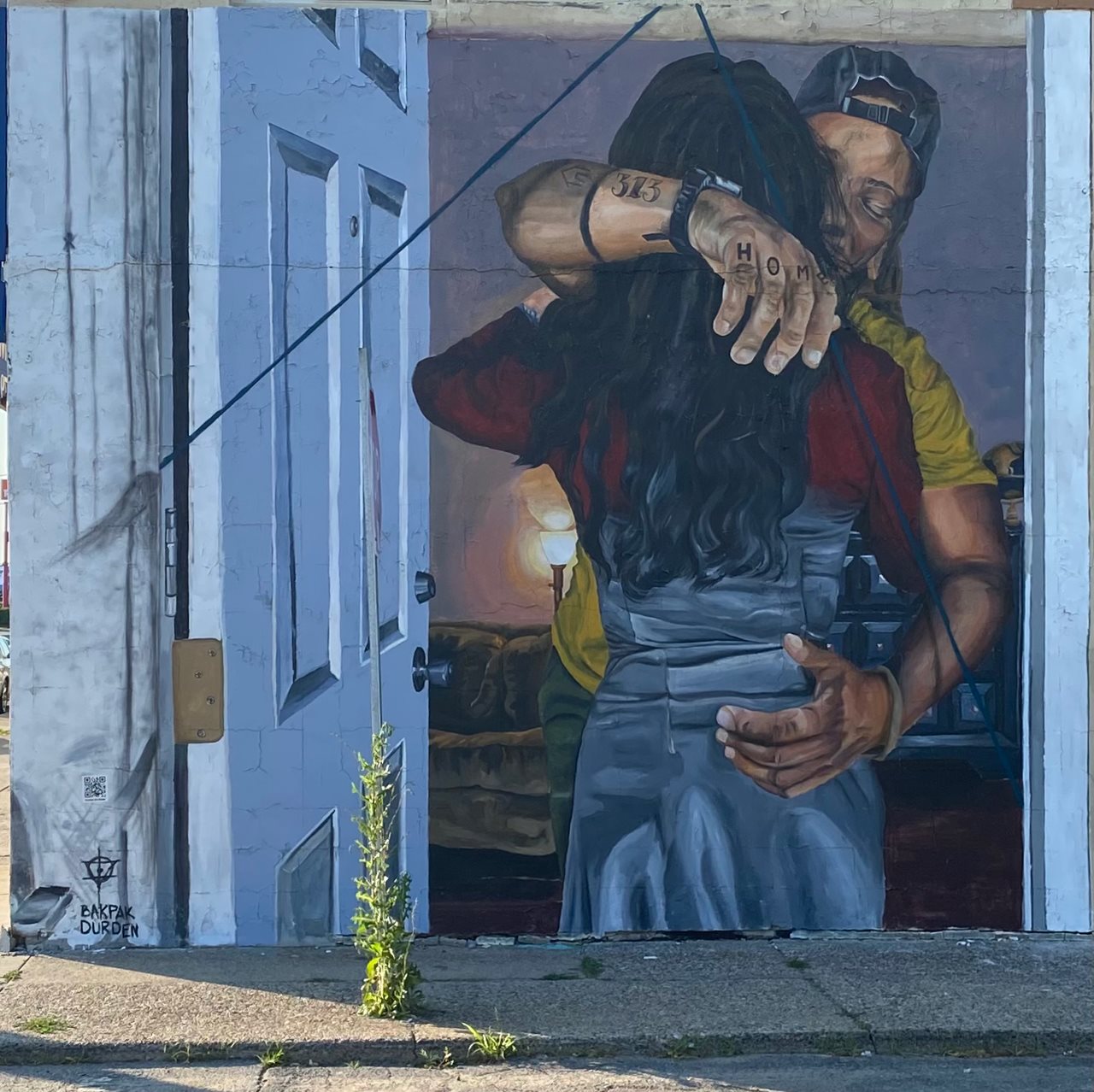 The mural that was painted in Detroit, Michigan, was created by Bakpak Durden, who displays larger-than-life, close-up and highly realistic images of people in motion — and in the midst of intense emotion — to show how the vaccine enables safe reunions with loved ones.
"After a little over a year of wanting to keep our loved ones safe, finally being able to run into the arms of our chosen family for a long-coveted embrace is an amazing feeling," said Durden. "Inside the home, everything is in full color. The person running into the hug is going from black and white to color, taking on the warmth and vibrancy of being inside the arms of a loved one."
Chicago, Illinois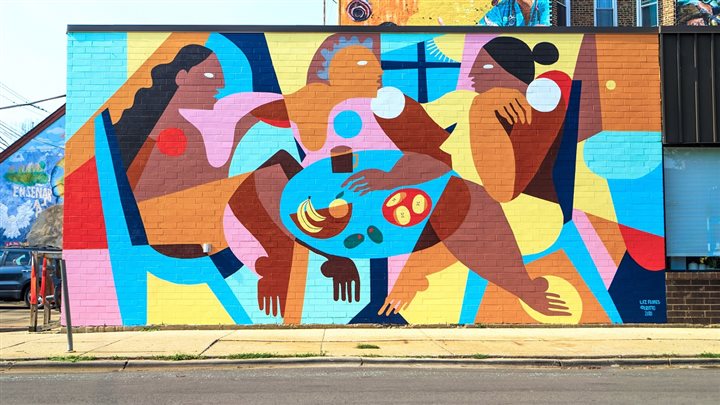 And in Chicago, artist Liz Flores used a more abstract, almost cubistic, color-blocking style to depict an image that tells an emotional story.
"I wanted to show a very personal setting that highlights the joy of getting back together. Recently, after not being able to see my grandmother for a year because of COVID, myself, my family and my grandma were all vaccinated and I was able to reunite with her," explained Flores. "We had a girls' night with my grandma and sister where we shared old stories and ate Cuban food. This artwork is meant to depict that moment by featuring three women seated around a table and listening to stories of the past year while eating and drinking cafe con leche, green olives and plantains."
While Flores and Durdens' murals are no longer visible on-site, they can still be viewed on the artists' respective Instagram pages.
For more information on COVID-19 vaccines and the "It's Up to You" campaign, visit GetVaccineAnswers.org.